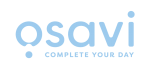 Olivit Sp. z o.o.
Olivit is an European wholesaler of food supplements with years of experience, distributing more than 9,000 products of multiple brands all over the world. Olivit is a responsible entity of the Osavi brand that was created in 2021.

The Osavi brand was designed for people interested in a healthy and active lifestyle but who are also conscious about the quality and sustainability of the ingredients and packaging they purchase.
Osavi offers lab tested products in innovative formulas of sprays, gummies, powders and liquids as well as soft and hard capsules. Osavi supplements are produced in and available all over Europe. The brand's offer includes products dedicated to people on exclusive diets, incl. vegetarian, vegan, lactose-free, sugar-free and ketogenic. The brand is committed to keeping the carbon footprint to a minimum and constantly looking for new, environmentally friendly solutions.