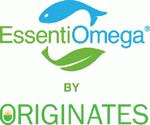 Originates Inc.
Originates Inc / Naturmega SA are engaged in the manufacturing and distribution of Omega 3 Fish Oils medium and high concentrates (EPA/DHA) through the process of Molecular Distillation, under the EssentiOmega™ brand.

Naturmega was one of the first Fish Oil Omega 3 Concentrates manufacturing plants in South America and we have been producing since 2008. Our state of the art manufacturing facility is certified ISO, HACCP and GMP and we are approved by DG Sanco, FDA, TGA and CFIA. Originates is located in Aventura, FL, and Naturmega is located in Barranquilla, Colombia, close to the source of raw materials to ensure quick turnaround times and flexibility.

We are a proud member of GOED since 2009. We also actively participate in GOED's committees and support their initiatives.
Company Category
Refiner/Concentrator
Distributor/Trader
Contract Manufacturer
Finished Product Company
Omega-3 Form
Ethyl Ester
Triglyceride
Phospholipid
Free Fatty Acid
Ingredient Form
Oil
Capsules
Emulsion
Liquid
Gummy
Finished Product
Dietary Supplement
Fortified Food/Beverage
Pharmaceutical
Pet Food