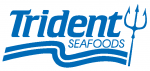 Trident Seafoods
Trident Seafoods is the largest vertically-integrated seafood company in North America. Three generations of us making our livelihoods from Alaska's bountiful oceans, we are committed to sharing this abundance by offering products that are delicious, convenient and sustainable. To fully utilize nature's bounty, we've learned how to get the most out of every fish caught to yield the freshest sustainable sources for our Pure Catch® and Pure Alaska Omega supplements.

Here at Trident, catching fish isn't just our business. It's our livelihood. What started in 1973 as one man with a boat and a vision is now a world-class, vertically integrated company with a strong global presence. Our wild salmon and Pollock are caught by independent fishermen in Alaska and deliver the purest, freshest, and best-tasting seafoods you will ever buy. One of the first to extract 100% food-grade natural Triglyceride (nTG) oils, Trident partners to deliver edible oils in softgel form and further refined highly concentrated omega-3 fatty acid oils under the Pure Alaska Omega brand.

Fishing is in our past, our present and our future. Working hard to champion the food of the future and inspire the world to eat more fish – from sea to supplement.