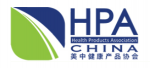 Health Products Association - China
Health Products Association – China (HPA-China) is a non-profit 501(c6) association dedicated to the overall natural health products industry including dietary supplements, organic foods, natural cosmetics, sports nutrition and traditional herbal products.

The association's primary focus is the continued development of China's dietary supplement and overall natural health product industry. The association works closely with both government and industry to achieve its objectives. HPA-China differs from other associations as it offers it members business related services to help them succeed in one of the most challenging markets in the world.

The association represents both international and domestic Chinese companies and is committed to increasing the trade and availability of its member's products and services, which will benefit the health and wellbeing of both industry and consumers alike.

HPA-China was established by Jeff Crowther in July 2010 with founding members Jarrow Formulas and NSF International. Crowther is also the CEO/Executive Director and has been living in China since 2005.