What is the size and value of the EPA and DHA omega-3 ingredient market?
The EPA and DHA omega-3 ingredient market size in 2018 was US$1.4 billion. This value represents an increase of 2.1% from the previous year. The scope of the global omega-3 market in volume was 111,210 metric tons, a 2.3% increase.
How can I learn more?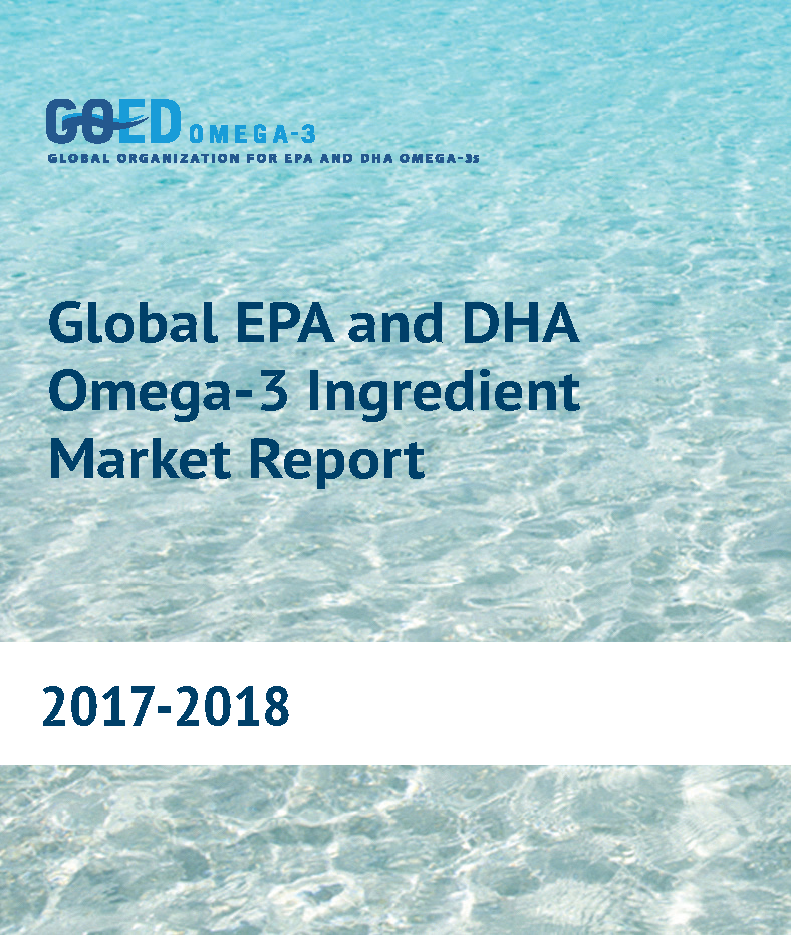 Every year GOED, the global EPA and DHA omega-3 trade association, publishes an Ingredient Market Report that provides a detailed description (150+ pages) of the size and value of the global ingredients market for EPA and DHA oils. For the purposes of this report, an omega-3 oil is an oil containing EPA and/or DHA, used as an ingredient in consumer products, including dietary supplements, food additives, pharmaceuticals, clinical nutrition, infant formula or pet food/supplements. This specifically excludes oils used as ingredients for feed in aquaculture or livestock/poultry production.
Estimates of ingredient volume and value are separated by raw material source and oil type, geographic region, and consumer application. Volume figures are provided in metric tons (mT), values in millions of US dollars (MM$). The report also includes detailed analysis of the market trends and factors influencing market growth.
Charts and figures include:
By Source Type:

Refined Oils
Concentrates
Krill
Algae
Fish Species (Tuna, Menhaden, Salmon, Hoki, Pollock, Cod Liver, Squid, Mussel, Calanus)

By Form:
By End Use Application:

Dietary Supplement
Food & Beverage
Pet Food
Infant Formula




Pharmaceutical
Clinical Nutrition/Medical Food

By Region:

United States
Europe
Mexico
Canada
China
Japan
Asia Pacific
Rest of Asia Pacific
South America
Australia
Rest of World







Which EPA and DHA omega-3 market report is the most accurate?
This extensive report is compiled by GOED. Because we have very strong credibility in the market, we are uniquely positioned to access detailed business intelligence from our members. As a result, this is the most accurate and comprehensive report available on the global EPA and DHA category.
Cost of report: US$8,000 (includes 150+ page report, an appendix of supplementary figures, and an Excel spreadsheet with all raw data). The report is complimentary for Leadership and Plus level GOED members and available at a discounted rate of US$4,500 for Base-level members — please contact us to access the member discount or request a sample.