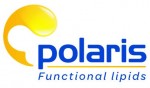 Polaris
POLARIS is a leading international expert in the field of Functional lipids. The company, based in France, specialises in the manufacture, development and formulation of polyunsaturated fatty acids, particularly Omega-3 targeting various markets as dietary supplements, functional foods and infant nutrition.

The POLARIS team has developed and introduced many innovations aimed at improving the quality, stability and formulation of Omega 3s from marine and microalgae origins. Its stabilized oils Qualitysilver® (patented process) are some of the most sought after whatever the final application: dietary supplements, functional foods, cosmetics. POLARIS also enhances a new concept called: « Sensory » which guaranteed a unique sensory profile to the oils making them easy to use and pleasant to taste in a large panel of food matrix.

Owing to its roots in Brittany, France, POLARIS also follows a strong policy of adding value to marine by-products with local food companies and supports research projects from competitive poles. POLARIS priorities are sustainability and preservation of marine resources.
As a specialist in lipochemistry, Polaris also offers a toll manufacturing service using its concentration, purification and deodorization technologies for health actives and ingredients. Its innovative technologies enables the fractionation of health ingredients through a gentle process and without the use of solvents for nutraceuticals and cosmetic applications.